You can access the Coachify Dashboard via Admin Dashboard > Appearance > Coachify.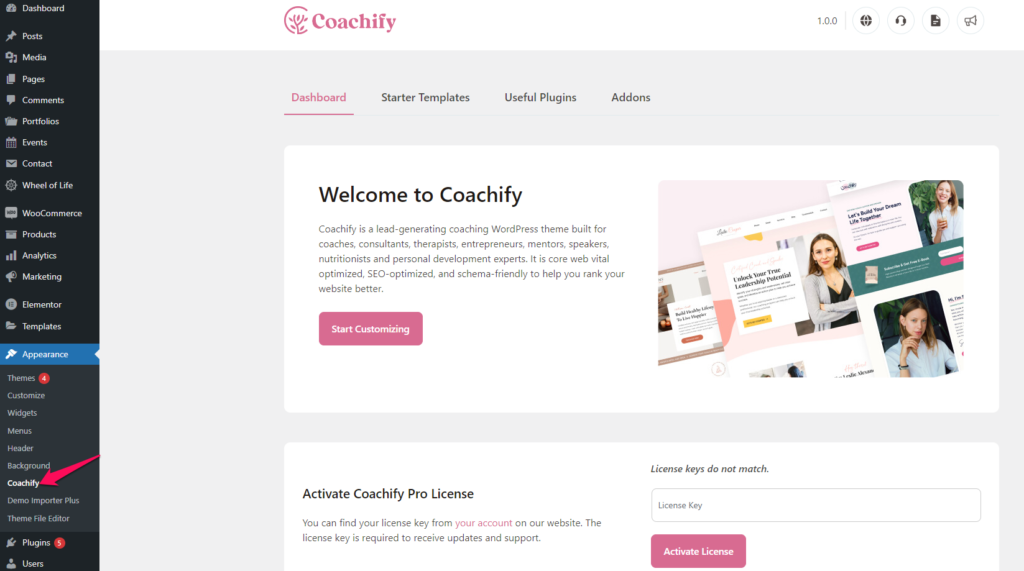 Coachify Dashboard provides you one-way access to everything related to the theme. Shortcuts to various customizer options, text-field for entering the premium plugin license key, direct installation option for useful plugins and addons, all are available from the Coachify Dashboard.
All above-mentioned features are provided under the five tabs of the Coachify Dashboard namely – Dashboard, Starter Templates, Useful Plugins, Free VS Pro and Addons.
Here is a brief explanation of each tab:
Dashboard tab – From this tab, you can easily access some customizer shortcuts like color options, typography and button settings, header menu settings, and more. You can also enter the license key for the Coachify Pro plugin via this tab. Links to the Theme Documentation and Support channel are also provided under this section.
Starter Templates tab – You can browse all the Coachify Starter Templates from this tab.
Useful Plugins tab – In this tab, you can install and activate all the plugins that are well tested to add different features to your site when using the Coachify Theme.
Free VS Pro – This tab is only available when you are not using the Coachify Pro plugin. You can checkout the feature difference between the free version of Coachify theme and the Coachify Pro plugin via this tab.
Addons tab – The Addons tab is available inside the Coachify Dashboard when the Coachify Pro plugin is activated on your website. From this tab, you can activate all the premium extensions that supports the Coachify Pro plugin.